PECO Service Network
PECO Pallet's extensive North American service network provides 100% transportation coverage of the U.S., Canada, and Mexico. PECO Pallet is headquartered in Itasca, IL with over 1,000 pallet manufacturing, recovery, sort, and full-service depot locations across North America.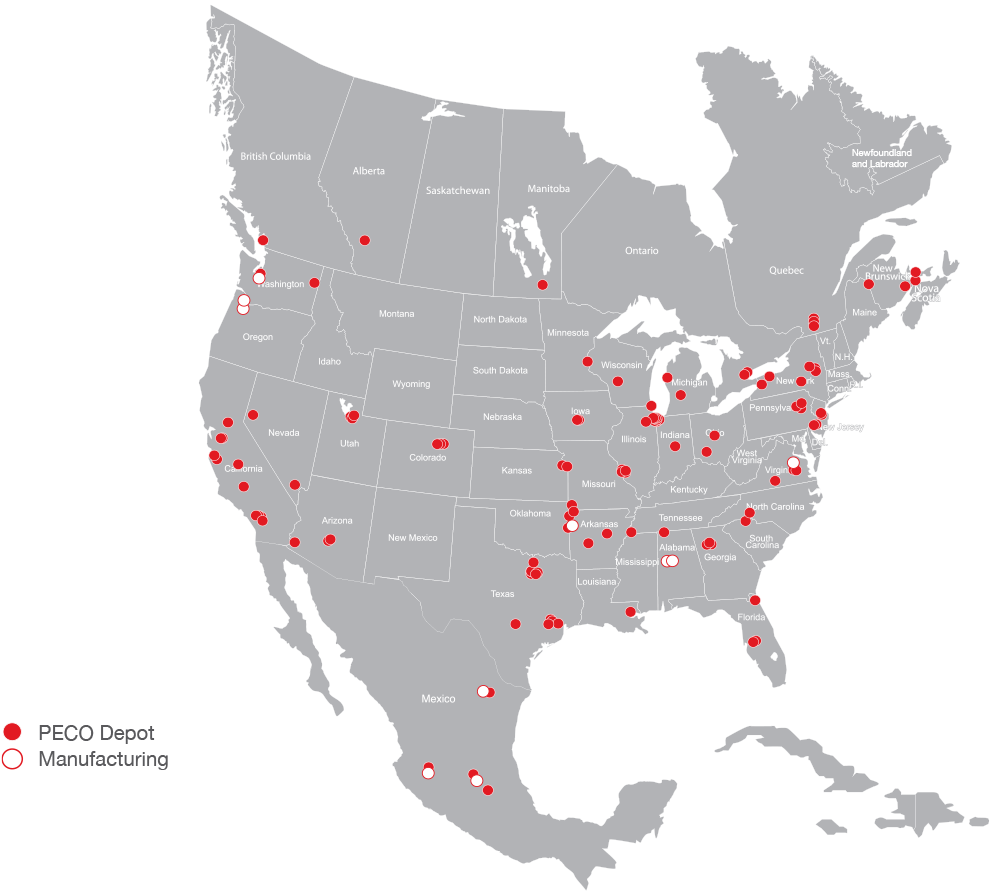 Manufacturers
PECO Pallet's customer base includes many of North America's leading grocery and consumer product manufacturers at thousands of locations across the U.S., Canada, and Mexico. Our current customer list includes some of the biggest and best-known names in food and beverage, paper, fresh produce, health/medical, and other CPG products. All of our customers, big and small, know they can count on PECO to help find innovative ways to cut costs, streamline materials handling, and improve safety and efficiency throughout the supply chain.
Distributors
PECO Pallet's superior quality and service add up to real benefits for distributors and retailers. PECO's high-quality block pallets help reduce product damage and streamline operations. They can be safely loaded in overhead racks without deflection and won't slip in refrigerated DC areas. PECO Pallet understands that retailers are a key component in the pallet rental cycle, and we work hard to build long-term relationships with distributors and retailers. PECO promptly picks up loads of empty pallets so they don't take up valuable warehouse space and become a nuisance. Our innovative online tool, RED<>LINK™, makes it simple for retailers to report full truckloads of empty pallets and request immediate pick-up.
>> READ MORE: An independent study on Block Pallet Utilization at a Sobeys warehouse verified the dramatic savings offered by block pallets vs. conventional Canadian stringer pallets.
Depots
PECO Pallet works closely with a network of independent pallet depots and recyclers across North America to receive, sort, store, repair, and reissue PECO pallets. Depot partners are carefully selected based on their overall integrity, efficiency, and productivity. Because our depots are an integral part of the PECO Pallet team, their quality standards are strictly managed. All pallet inspections and repairs are conducted using the same 15-point pallet repair specification to ensure consistent quality throughout the network. PECO Operations Managers conduct regular visits and no-knock audits to measure each depot's service, quality, damage rate, and inventory accuracy.
Interested in renting PECO pallets or becoming an authorized distributor? Contact us today to find out more!